The stump socks are available in two basic varieties:
In case of Amputees using Lower Limb Prosthesis, it is necessary to use intermediary layer of Soft, Absorbing Separator to shield the sensitive skin of the stump from coming in contact with the solid harsh surface of the Socket. Earlier, pure wool Stump Socks were used as a barrier since it was considered to be bio-compatible and with least risk of infection to the human skin. Especially under tropical conditions, Ambient Temperatures are High and sweat results in discomfort.
We have, therefore, developed socks that would provide sufficient cushioning and be absorbent enough to keep the skin dry and healthy. These were developed in two basic textures. 'Piled' (i.e. Turkish Towel type) or 'Plain Knitted'. Both are being used on personal preference based on comfort.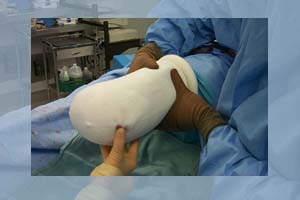 The piled version is specially designed to meet the exacting requirements of the user. Due to its sensitive role, Stump Socks are made from Pure Cotton Fibre that is totally compatible with human skin. In order to avoid thick stitched joint at the Distal End, we use a special technique to provide a very thin Non-Hurting joining-line that does not bite on the Load-Bearing area of the Stump. It has variable expansion and right contours to comfortably fit the stump.


For 'Above Knee Amputees', a tapered shape is required so that the 'FIT' is Wrinkle Free and Comfortable under the Socket. It is being developed in 100% Cotton for total comfort in the tropical climates (like INDIA) and will be available to the users in very near future.


Sizes Available
In order to suit individual requirement, a range of sizes is offered. These are made in 25, 30, 35, 40, 50 and 60 Cm lengths in case of B.K. (Below Knee) socks and various combinations for A.K. (Above Knee) Socks.