We manufacture high-quality Stockinette made from the finest and purest cotton yarn available. The details are as follows:
1. Applications of Cotton Stockinette
2. Applications of Synthetic Stockinette
3. Guidance for use of Synthetic Stockinette
4. Sizes Available
5. How do we package Stockinette

Stockinette (Cotton & Synthetic)
Stockinette is produced in two basic varieties, namely Cotton and Synthetic materials. Each variety has its specific applications for fabrication of socket for Artificial Limbs and Corrective Orthosis. Details are mentioned as under:

Cotton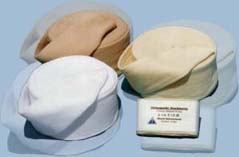 a) Orthopaedic:
In cases of fracture, it is essential to provide a barrier material between the sensitive skin and the harsh plaster. This is accomplished by using a layer of Cotton Stockinette as the 'Underlay' or the 'Barrier'. Cotton bandage (used earlier) imparts uneven pressure on the injured surface and gives a rough, uneven finish to the plaster. Right size of Cotton Stockinette underlay induces uniform pressure on the skin while providing perfect coverage of the injured area. In this regard, some Orthopaedic Surgeons prefer to use bleached stockinette for better absorption and appearance.

b) Rehabilitation:
For Lamination: In order to reinforce the composite socket (for Artificial Limbs) Cotton is used along with synthetic resin. The stockinette is produced out of Best Quality Cotton Yarn of appropriate texture that imparts a Spring-Back to the fabric hose. This permits the stockinette to hug the cast closely for uniform thickness of shell. As an innovative product we have introduced "Skin Colour" Stockinette also. This eliminates the need for using pigment while making the socket and thereby provides much better finish and economy.
For Cosmetic Cover: In case of Endo-Skeletal Prosthesis a "Contoured P.U. Foam Cosmetic Cover' is used to get an aesthetic shape of the limb. On top of this a fine Nylon Stocking is put on for protection and Cosmetic Look of the Artificial Limb. We have introduced 'Skin Colour' Cotton Stockinette for use under the Nylon Stocking. This combination gives Better Look and Texture (apart from enhanced life) to the Finished Prosthesis.
c) Surgical:
Lately, cotton stockinette has also been introduced for use during Surgical Procedures, where a good degree of absorption is required. Surgical teams prefer specific colours for use in their own Operation Theatres. This being a matter of preference, the colours are purely based on individual choice. For example, a prominent hospital specializing in cardiac surgery uses Cotton Stockinette in Deep Blue colour during surgical operations. This improves the visibility of Needles and other small items even in presence of blood stains.
Synthetic
Synthetic Stockinette is produced in two shades viz. 'White' and 'Skin Colour'. This is primarily used for outer layers of the Socket. Shell is laminated on the Modified Plaster Cast with the help of Cotton and Synthetic Stockinette impregnated with Synthetic Resin. This Stockinette was earlier available in white colour only, where appropriate pigment was mixed with the Resin to get Brown Shades on the Socket. But we have introduced the same in "Skin Colour". There by, eliminating use of pigment. In order to get the best results, under mentioned tips will be of help.
Guidance for use of Synthetic Stockinette
The stockinette has been specially developed for strength, durability and economy for the fabrication of sockets. Following procedure is to be adopted for optimum use:
1. Choose correct size of Stockinette in order to get maximum contact with the cast (The fabric has a stretch of 2.5 to 3 times its original width.)
2. Seal open ends by moving it across a small flame or a hot iron.
3. Pre-stretch to loosen the weave and apply as outer most layer on the socket.
4. Squeeze out excess resin.
5. Cure and finish.
Important Notes
1. The colour chosen is to match with most shades of human skin.
2. No pigment is required to be added to the resin. This saves on mixing time and increasing working life of the mix.
Sizes Available
The total variety of Stockinette is available in Six Sizes (i.e. 30, 60, 80,100, 120 and 150mm widths).

Sizes (mm) >
30
60
80
100
120
150
Cotton
(C)
1 Mt.
ü
ü
ü
ü
ü
x
1.5 Mt.
x
ü
ü
ü
ü
x
10 Mt.
ü
ü
ü
ü
ü
ü
20 Mt.
ü
ü
ü
ü
ü
ü
25 Mt.
ü
ü
ü
ü
ü
ü
Cotton
Bleached
(CB)
1 Mt.
ü
ü
ü
ü
ü
x
1.5 Mt.
x
ü
ü
ü
ü
x
10 Mt.
ü
ü
ü
ü
ü
ü
20 Mt.
ü
ü
ü
ü
ü
ü
25 Mt.
ü
ü
ü
ü
ü
ü
Cotton Colored
(CC)
1 Mt.
ü
ü
ü
ü
ü
x
1.5 Mt.
x
ü
ü
ü
ü
x
10 Mt.
ü
ü
ü
ü
ü
ü
20 Mt.
ü
ü
ü
ü
ü
ü
25 Mt.
ü
ü
ü
ü
ü
ü
Synthetic (White)
1 Mt.
Not in Regular Production
1.5 Mt.
10 Mt.
ü
ü
ü
ü
ü
ü
20 Mt.
ü
ü
ü
ü
ü
ü
25 Mt.
ü
ü
ü
ü
ü
ü
Synthetic (Skin Color)
1 Mt.
Not in Regular Production
1.5 Mt.
10 Mt.
ü
ü
ü
ü
ü
ü
20 Mt.
ü
ü
ü
ü
ü
ü
25 Mt.
ü
ü
ü
ü
ü
ü
Packaging
All sizes mentioned above are available in 10/20/25 Mt Rolls for Clinical Use and 1 & 1.5 Mt "Prescription Packs". Each roll is packaged separately in poly-packs. Custom designed packing (as specified by the customer) can also be provided in cardboard boxes and/or poly-packs for exports in reasonable quantities.