We manufacture high-quality Knit Cuffs that are used by the garment industry in a variety of ways. Made from the finest yarns available, we ensure great quality and elasticity as per your specifications. The details are as follows: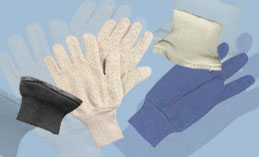 The Product
Knit Cuff is a "Cylindrical Knitted Fabric" used in places where a longitudinal Stitch is not desirable for reasons of comfort and aethetics. In order to achieve required Flexibility it is Elasticated with Rubber Strand OR Spandex and Ribbed on Both sides or on the Outer Side Only.


Uses
It has wide variety of applications in Garment Industry and Gloves for Sports, Gardening and Industrial Safety. While Body of the Gloves is made to suit a specific industrial requirement, the Open End is made out of Knitted Cylindrical Fabric with ribs to provide a "Snug Fit". This also helps in protecting the hand from entry of dust and preventing it from slipping off.


Variety Offered
Shashi International manufactures a variety of Knit Cuffs in a range of sizes and types to suit all applications of Garments and Gloves. Basically, Ribbed Tube in Synthetic Materials is most suited for this purpose. In order to impart additional compression it is reinforced with Covered Elastic Yarn.


Sizes Available
Since all Product Manufacturers have their own specialities, we strive to develop Sizes and Types to suit their application. However we have in our range PP and PE Knit Cuffs in sizes from 2" to 3.5" flat width.